Christian L. VerMeulen, DDS
Dear Friend,
I am passionate about dentistry because I've seen how exceptional dental care can help and change a patient's life. Whether it's delivering relief from a toothache, family dentistry or cosmetic dentistry, I will always give you my full attention and best work.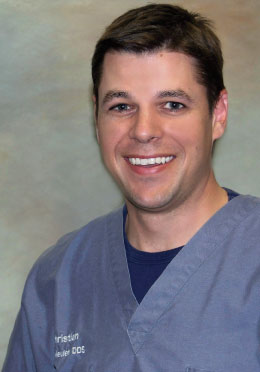 After graduating from the University of Michigan School of Dentistry, I pursued additional training with advanced continuing education courses focused on aesthetic restorations, root canal therapy and bite relationships. This is an ongoing commitment for me, as I want my patients to benefit from emerging techniques and developments in dentistry.
On a personal note, I'm a long-time Michigan resident, enthusiastic Wolverine fan and graduate of Grand Rapids Christian High School and Hope College. My wife Kara and I have three wonderful children.
One of the things I enjoy most about owning my own dental practice is having the flexibility to take time with my patients. I explain "what" and "why" so you can make informed decisions without pressure.
Thank you for visiting my website. If you're not already a patient, I invite you to try us. You'll discover a dental practice that cares about you and revolves around your comfort, satisfaction and well-being.
Sincerely,
Christian VerMeulen, DDS